Categories
Microscopes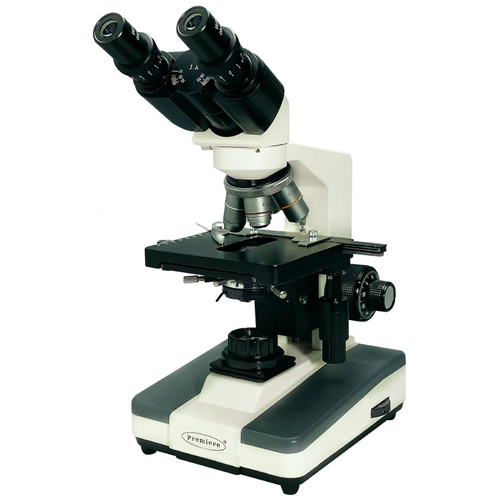 The objectives face backwards for more space and the base has a comfortable plastic plating over the metal for less heat conduction. The field diaphragm adjustment built into the illuminator offers Koehler illumination for more lighting control options. Features:
30° inclined binocular Seidentopf head, rotatable 360°
Interpupillary distance adjustment 55-75mm
Pair of 10X widefield eyepieces
4 DIN Achromatic parfocal and parcentered objectives:
4X (N.A.O.10)
10X (N.A. 0.25)
40X (N.A. 0.65)
100X, Oil (N.A. 1.25)
Focusing stop to prevent objectives and slides from damage
140mm x 135mm graduated mechanical stage (40 x 80mm travel) with low position coaxial drive
Spring loaded slide holder
Abbe condenser NA 1.25 with rack and pinion adjustment
Iris diaphragm with blue filter & field diaphragm for more light control
Variable intensity halogen illuminator, 6V 20W, 100V to 240V
Spare bulb, fuse, immersion oil, dust cover, rubber eye guards
Size: 7" x 9" x 15" H, Weight: N. W. 13 3/4 lbs.
CE Certified, Detachable UL cord
| | | | | |
| --- | --- | --- | --- | --- |
| mrp-3000 | Premiere Veterinary Clinical Microscope | $535 | Add To Cart | |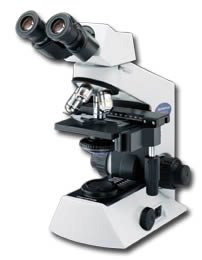 The CX23 sets a new standard in educational microscopy for biological applications. Solid, easy to operate and reliable for routine educational users and veterinary lab work. Replaces CX21 and CX22.
Infinity-corrected Plan Achromat objectives offer exceptional flatness producing sharp, clear images right up the edge of the field of view (4x, 10x, 40x, 100x oil)
10X F.N. 18 eyepieces
Anti-fungus treatment helps protect optical parts even in high humidity work conditions
Ultra-smooth, quadruple revolving nosepiece
Fixed Abbe condenser N.A. 1.25, aperture stop position for each objective is clearly marked on the condenser resulting in high-contrast images
A 6V/20W halogen bulb delivers clear, stable illumination. The built-in aspherical collector lens provides images that are bright and uniformly illuminated over the entire field of view.
Compact design for easy portability and storage in a typical classroom cabinet
Built in right hand stage with rackless design, low positioned X,Y controls
Student proof - The eyepieces, objectives and condenser are all factory attached to the microscope body ensuring that no component is dropped or detached during transportation or regular use
Warranty: 5 year Parts & Labor / 1 year on electrical
| | | | | |
| --- | --- | --- | --- | --- |
| cx23 | Olympus Microscope | $1720 | Add To Cart | |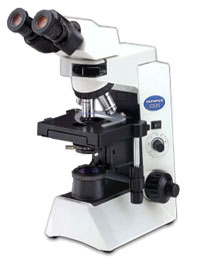 The renowned performance of Olympus Microscopes are widely acclaimed for superior resolution and image contrast throughout a flat viewing field. The Model CX31 system microscope can easily accommodate a multitude of accessories, including: phase contrast, photomicrographic systems, polarizers, darkfield, dual observation teaching heads, and a wide variety of eyepieces and objectives. Standard features include:
4X , 10X , 40X (Spring), 100X Oil (Spring) Plan Achromat Objectives Corrected to Infinity
10X , F.N. Wide Field, High Eyepoint Eyepieces
ABBE Type N.A. 1.25 Condenser with Aperture Diaphragm & Filter Holder
Mechanical Stage with Convenient Low Position Coaxial Controls
Coaxial Coarse & Fine Focus with Tension Ring & Limit Control Lever
6 Volt / 30 Watt KOEHLER HalogenI lluminator.
Warranty: 5 year Parts & Labor / 1 year on electrical
| | | | | |
| --- | --- | --- | --- | --- |
| cx31 | Binocular | Call for Price | Please add to quote | |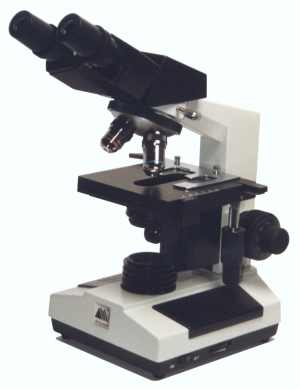 The REVELATION 3 microscope features a rugged stand and an anti-fungal coating on the optics. LED Illuminator features an optional a car adapter or portable battery for mobile or field use.
4X , 10X , 40X , 100X/Oil achromat Objectives
1.25 NA ABBE Condenser with Iris Diaphragm & Filters
Seidentopf Head with 12.5X Eyepieces
Optional Carry case & Car Battery Adapter
Limited Lifetime Warranty on Stand & Optics/One Year Warranty on electronics.
| | | | | |
| --- | --- | --- | --- | --- |
| jc6v-20w-g4 | Spare Illuminator Halogen Bulb | $14 | Add To Cart | |
| rv30st | Plan Objectives & Trinocular Head | $1040 | Add To Cart | |
| rv30p | Plan / Flat field Objectives | $840 | Add To Cart | |
| rv30a | Standard Achromat Objectives | $640 | Add To Cart | |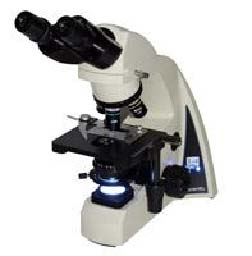 | | | | | |
| --- | --- | --- | --- | --- |
| i4m-b04a-ipl3 | i4 PLAN MICROSCOPE | $1500 | Add To Cart | |
| i4m-b04a-isl3 | i4 SEMI-PLAN MICROSCOPE | $1160 | Add To Cart | |