Categories
Ultrasounds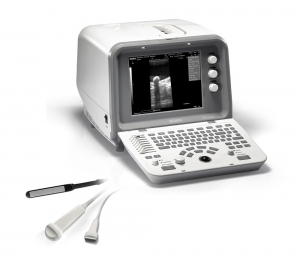 EDAN's model DUS 60 VET portable digital ultrasonic imaging system, produces high resolution 2D images. With a variety of multi-frequency transducers and abundant measurement and calculation software packages specifically designed for dog, cat, equine, bovine and ovine, the DUS 60 VET is a reliable and effective system for any veterinary sonographer.
Digital Beam former
Multi-frequency transducer series (2.5MHz - 10.0MHz)
10" non-interlaced monitor
Two USB ports support storage, transferring and printing
56MB permanent image storage capacity
THI (Tissue Harmonic Imaging)
TSI (Tissue Specific Imaging)
IP (Image Processing) function
256-frame cine loop memory
Two transducer connectors
Backlit keyboard
One Micro-convex array transducer: C613
One cable holder
Warranty: 36 Months
| | | | |
| --- | --- | --- | --- |
| dus6vet | $4600 | Add To Cart | |
* Call for special Price!
Options include: Linear array transducer: L743 / Transrectal transducer: V743 / Transrectal transducer: V563 / Convex array transducer: C343-1 / Convex array transducer: C363-1 / Needle guide bracket for transducers / Video Printer / Ink-jet/Laser Printer / DICOM 3.0 software package / Mobile Trolley / Carrying bag / Footswitch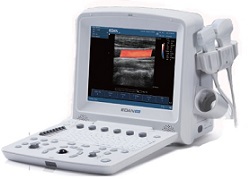 The U50 is a cost-effective, portable color Doppler diagnostic ultrasound system. Characterized by user-friendly workflow, the U50 offers excellent image quality and reliable performance delivering high diagnostic confidence. An optional lithium battery provides 90 minutes of operation between charging. Available with transducer and measurement packages to support a wide range of applications including abdominal, OB/GYN, vascular, cardiac, pediatric and small parts.
Digital Beam Former
Multi-frequency transducer series (2.5MHz - 10.0MHz)
12.1" LCD monitor
Pulsed Wave Doppler
Color Doppler Flow Imaging
Power (Directional Power) Doppler Imaging
Phased Inversion Harmonic Compound Imaging
Spatial Compounding Imaging
Speckle Resistance Imaging
Two transducer connectors
Multi-Pseudo color
One cable holder
Warranty: 36 Months
| | | | |
| --- | --- | --- | --- |
| u50 | $8200 | Add To Cart | |