Categories
Acute and Longterm Scales

• 180° swivel head for side read
• Motion-sensing weighing technology
• Customizable 1" backlit LCD display
• Displays fractions, lb/oz, decimals in standard; decimals in metric
• User-friendly menu screen
• Clock with date and time
• Keypad Entry, BMI, Manual Tare, Zero, Auto-Off, Auto-Hold, Reweigh, Hold/Release
• Industrial-strength wrap-around handrails
• USB and Serial Ports (2) for computer interface with 270 patient memory
• Updateable firmware
• 6 D-Cell Batteries (6 month battery life) & 120V AC adapter
• Heavy-duty wheels
• 1 Year Limited Warranty

| | | | | | | | | |
| --- | --- | --- | --- | --- | --- | --- | --- | --- |
| 2101kl | 1000 lb 454 kg | 4 oz/0.2 lb 1/4 lb/0.1 kg | 66 lb | 30" x 28 1/2" x 47 1/4" | 26" x 24 1/4" | $1628 | Add To Cart | |

• Easy-grip handrail for patient stability
• Large, 1" LCD Display
• Motion-sensing weighing technology
• Reweigh, LB/KG, Zero, On/Off Buttons. Low Battery Indicator and Auto-Off
• Heavy-duty steel base
• 19 1/8" x 19 1/8" platform with wheels for mobility
• 6 C-cell batteries & 120V AC adapter
• 3 Year Warranty
| | | | | | | | | |
| --- | --- | --- | --- | --- | --- | --- | --- | --- |
| 1101kl | 700 lb/310 kg | 0.2 lb/0.1 kg | 37 lb | 23 3/4" x 19 1/8" x 44 7/8" | 19 1/8" x 19 1/8" | $1228 | Add To Cart | |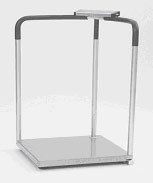 The MS300 Portable Electronic Hand rail Scale weighing up to 660 lbs. /300kg is ideal in many applications - Health Clubs, Nursing Homes, Schools, Diet Centers, Hospitals and Doctor Offices. A foam padded handrail offers stability and comfort without affecting weight. Operates on (6) internal rechargeable batteries or one 12V 300mA AC adapter (both included). • TARE & HOLD function, Auto Shutdown
• 1100 lb overload capacity, 21.5"x 18.5" x3" stainless platform
• Two raised wheels offer easy mobility when scale is tilted.
• 1"high LCD 4-digit Display, and RS-232 Interface
• Easy assembly (no tools required).
• Capacity: 660 lbs. x 0.2 lbs. / 300 kg x 0.1 kg.

| | | | | |
| --- | --- | --- | --- | --- |
| ms300 | Hand Rail Scale | $585 | Add To Cart | |

• Motion-sensing weighing technology
• Large 1" LCD Display • Reweigh, LB/KG, Zero, On/Off buttons. Low Battery Indicator and Auto-Off features
• 6 C-cell batteries (not included) & 120V AC adapter power supply (included)
• Industrial-strength steel frame
• Sanitary cushioned seat
• Movable arms for easy access
• Folding foot rest for patient comfort during weighing
• Heavy-duty wheels for mobility
• 3 Year Warranty
| | | | | | | | | |
| --- | --- | --- | --- | --- | --- | --- | --- | --- |
| 595kl | 600 lb/270 kg | 0.2 lb/0.1 kg | 79 lb | 23 1/4" x 35" x 40 1/8"H | 17 1/4" W x 17 3/4" D | $1165 | Add To Cart | |

• Consists of a balance beam scale with large 30" x 30" steel platform
(410KLS-01) to accommodate oversized wheelchairs
• Ramp attaches to either side for left or right access (410KLS-01)
• Rotating poise bars for weighing in pounds and kilograms
• Poise bar lock-in for error-free operation
• Permanent, engraved readings on poise bar for long-lasting readability
• Heavy-duty steel base for improved strength and durability
• Factory calibrated to ensure accuracy
• Includes two counterweights to increase capacity to 450 lb or 200 kg
• 2 Year Limited Warranty

| | | | | | | | | |
| --- | --- | --- | --- | --- | --- | --- | --- | --- |
| 420s-01 | | | | | | $235 | Add To Cart | |
| 421kls-01 | 350 lb/160 kg | 1/4 lb/100 g | 75 lb | 26 1/4" x 33 3/4" x 57 1/4" | 26" x 28 3/8" | $465 | Add To Cart | |
| 410kls-07 | 500 lb/200 kg | 1/4 lb/100 g | 175 lb | 30" x 30" x 57 1/4" | 30" x 30" | $1089 | Add To Cart | |

• 180° Swivel Head for Side Read
• Motion-sensing weighing technology
• Customizable 1" backlight LCD display
• Displays fractions, lb/oz, decimals in standard; decimals in metric
• User-friendly menu screen
• Platform with wheels for mobility, 2600KL folds up for easy storage
• Keypad entry, BMI, Manual Tare, Zero, Auto-Off, Auto-Hold, Reweigh, Hold/Release
• USB and Serial Ports (2) for computer interface with 270 patient memory
• Updateable firmware
• 6 D-cell batteries (6 month battery life) & 120V AC adapter
• 10"x32" Ramp attaches to either side for left/right access. Second ramp available (2600KL only)
• 1 Year Limited Warranty

| | | | | | | | | |
| --- | --- | --- | --- | --- | --- | --- | --- | --- |
| 2600r | | | | | | $238 | Add To Cart | |
| 2600kl | 1000 lb 454 kg | 4 oz/0.2 lb 1/4 lb/0.1 kg | 105 lb | 42" x 45" x 46 1/2" (ramp down) | 32" x 37" (10" ramp) | $2235 | Add To Cart | |
| 2500kl | 1000 lb 454 kg | 4 oz/0.2 lb 1/4 lb/0.1 kg | 71 lb | 39 1/2" x 37 7/8" x 46 1/2" (ramp down) | 28 1/2" x 29 3/8" (10"ramp) | $2050 | Add To Cart | |

• Customizable 1" backlight LCD display
• Displays fractions, lb/oz, decimals in standard; decimals in metric.
• User-friendly menu screen
• Motion-sensing weighing technology
• Platform folds up with carry handle, head attaches to scale for portability
• Lightweight, weighs 24 lbs
• Portable head comes with bracket for wall-mounting or table-top display
• Keypad entry, BMI, Manual Tare, Auto-Off, Auto-Hold, Zero, Reweigh, Hold/Release
• USB and Serial Ports (2) for computer interface with 270 patient memory
• Updateable firmware
• 6 D-cell batteries (6 month battery life) & 120V AC adapter
• Low profile, easy ramp access, width adjusts to accommodate a range of wheelchairs
• 3 Year Limited Warranty
| | | | | | | | | |
| --- | --- | --- | --- | --- | --- | --- | --- | --- |
| 2450kl | 600 lb 270 kg | 4 oz/0.2 lb 1/4 lb/0.1 kg | 24 lb | 23 1/2" - 31 3/4" W x 3" x 33 1/2" (open); 17 1/2" x 7" x 33 1/2" (folded) | wheelchair widths from 23 1/2" - 31 3/4" x 33 1/2" L | $1215 | Add To Cart | |

• Hoyer lift
• 180° swivel head for side read
• 270 patient memory
• Display pivots for easy reading by operators of all sizes
• 3-way tare with memory
• Updatable firmware
• Casters with wheel lock for mobility and stability
• Customizable 1" backlit LCD displays in fractions and decimals
• Includes 1 USB and 2 serial ports
• Keypad entry, BMI, manual tare • 6 D-cell batteries (not incl.) 120V AC adapter (incl.)
• Metallic gray
• 3 Year Limited Warranty (on Stretcher and Scale only)

| | | | | | | | | |
| --- | --- | --- | --- | --- | --- | --- | --- | --- |
| 2000kl | 400 lb/181 kg | 0.2 lb/1/4 lb 4 oz/0.1 kg | 145 lb | 45" x 26" x 72" | 6' Stretcher | $3150 | Add To Cart | |