Categories
Stainless Steel Cages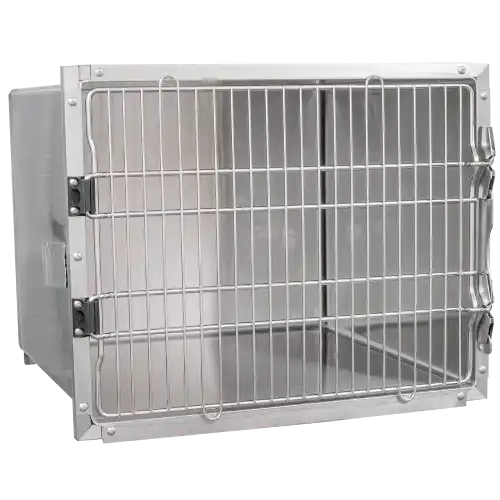 SHOR-LINE STAINLESS STEEL CAGES
Can be stacked into multi-cage assemblies
Crafted from Type 304 Stainless Steel.
Every part of the cage features heavy gauge Stainless Steel.
One-piece door made with welds at every intersection.
Tighter spacing near the latch keeps curious paws away.
One piece of Stainless Steel makes up the cage sides.
Rounded corners make cage cleaning easy.
Patented quiet-closing polymer-encased Stainless Steel hinge operates smoothly and quietly. (U.S. Patent #7,805,808)
Fluid-retaining lip keeps fluids contained.
Durable, sound-dampening latch has Acetal bushings.
Sound-dampening patches keep noise down.
This item requires a quote request to provide an accurate freight quote
| | | | |
| --- | --- | --- | --- |
| esl1515 | 15″H x 15″W x 28-3/4″D | Call for Price | |
| esl1518 | 18″W x 15″H x 28-3/4″D | Call for Price | |
| esl1520 | 20″W x 15″H x 28-3/4″D | Call for Price | |
| esl1524 | 24″W x 15″H x 28-3/4″D | Call for Price | |
| esl1818 | 18″H x 18″W x 28-3/4″D | Call for Price | |
| esl1824 | 24″W x 18″H x 28-3/4″D | Call for Price | |
| esl2018 | 18″W x 20″H x 28-3/4″D | Call for Price | |
| esl2020 | 20″H x 20″W x 28-3/4″D | Call for Price | |
| esl2024 | 24″W 20″H x 28-3/4″D | Call for Price | |
| esl2418 | 18″W x 24″H x 28-3/4″D | Call for Price | |
| esl2420 | 20″W x 24″H x 28-3/4″D | Call for Price | |
| esl2424 | 24″H x 24″W x 28-3/4″D | Call for Price | |
| esl2430 | 30″W x 24″H x 28-3/4″D | Call for Price | |
| esl2436 | 36″W x 24″H x 28-3/4″D | Call for Price | |
| esl3024 | 24″W x 30″H x 28-3/4″D | Call for Price | |
| esl2448 | 48″W x 24″H x 28-3/4″D | Call for Price | |
| esl3030 | 30″H x 30″W x 28-3/4″D | Call for Price | |
| esl3036 | 36″W x 30″H x 28-3/4″D | Call for Price | |
| esl3042 | 42″W x 30″H x 28-3/4″D | Call for Price | |
| esl3048 | 48″W x 30″H x 28-3/4″D | Call for Price | |
| esl3060 | 60″W x 30″H x 28-3/4″D | Call for Price | |
| esl3630 | 60″W x 36″H x 28-3/4″D | Call for Price | |
| esl3636 | 36″H x 36″W x 28-3/4″D | Call for Price | |
| esl3648 | 48″W x 36″H x 28-1/2″D | Call for Price | |
| esl3660 | 60″W x 36″H x 28-3/4″D | Call for Price | |
| esl4260 | 72″W x 36″H x 28-3/4″D | Call for Price | |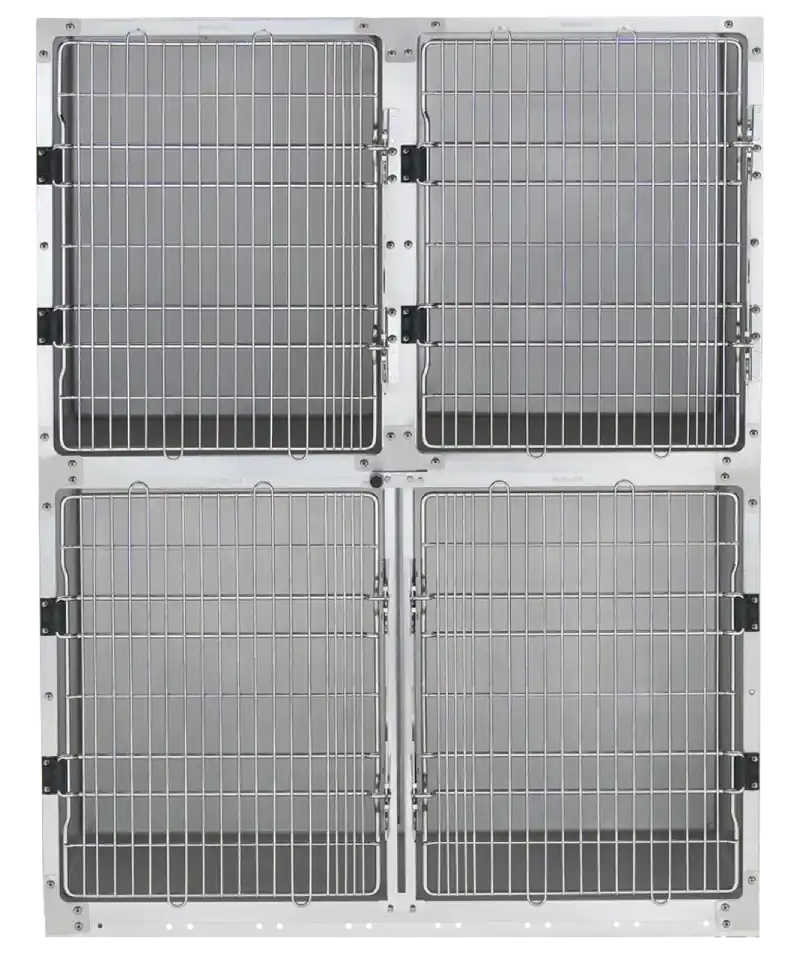 This item requires a quote request to provide an accurate freight quote
Model
Description
Price
Add To Quote
902-0103-19

Option A
Top Row: 2 – 24″w x 24″h cages
Bottom Row: 2 – 48″w x 30″h DD cages

$2574
902-0103-16

Option B (Pictured)
Top Row: 2 – 24″w x 30″h cages
Bottom Row: 1 – 48″w x 30″h DD cage

$2668
902-0103-20

Option A *with Mobile Base
Top Row: 2 – 24″w x 24″h cages
Bottom Row: 2 – 48″w x 30″h DD cages

$3001
902-0103-17

Option B *with Mobile Base
Top Row: 2 – 24″w x 30″h cages
Bottom Row: 1 – 48″w x 30″h DD cage

$3091