Categories
Dirck Stainless Steel Cages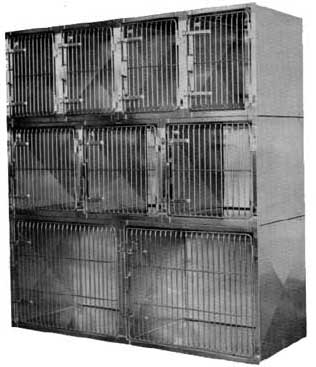 DIRCK Stainless Steel Cages are the result of more than 35 years of experience in the industry.
Polished Type 304 Stainless Steel for Easy Clean Cleaning
Unique One-Handed Positive Lift Latch for Easy Access
No Center Post On Double Door Cages for Easy Access
Warranty - Lifetime on Materials / 10 Years on Workmanship
Easy Assembly/No Screw Plates Needed
Individual cages easily combined into custom assemblies
Double Doors. Each door latches independently without a center post.All single door cages will be shipped with right side hinges unless left hinges are requested. Individual cages are modular and can easily be combined into custom assemblies. Optional accessories include dividers, bowls, and bowl holders, card holders, end panels, caster bases and cat perches.
Delivery time for Dirck cages typically runs 4 to 6 weeks, but may be longer.
This item requires a quote request to provide an accurate freight quote
| | | | |
| --- | --- | --- | --- |
| esl1515 | 15″H x 15″W x 28-1/2″D | $228 | |
| esl1518 | 15″H x 18″W x 28-1/2″D | $238 | |
| esl1520 | 15″H x 20″W x 28-1/2″D | $248 | |
| esl1524 | 15″H x 24″W x 28-1/2″D | $255 | |
| esl1818 | 18″H x 18″W x 28-1/2″D | $252 | |
| esl1824 | 18″H x 24″W x 28-1/2″D | $274 | |
| esl2018 | 20″H x 18″W x 28-1/2″D | $257 | |
| esl2020 | 20″H x 20″W x 28-1/2″D | $271 | |
| esl2024 | 20″H x 24″W x 28-1/2″D | $272 | |
| esl2418 | 24″H x 18″W x 28-1/2″D | $276 | |
| esl2420 | 24″H x 20″W x 28-1/2″D | $280 | |
| esl2424 | 24″H x 24″W x 28-1/2″D | $294 | |
| esl2430 | 24″H x 30″W x 28-1/2″D | $357 | |
| esl2436 | 24″H x 36″W x 28-1/2″D | $392 | |
| esl3024 | 30″H x 24″W x 28-1/2″D | $329 | |
| esl2448 | 24″H x 48″W x 28-1/2″D | $494 | |
| esl3030 | 30″H x 30″W x 28-1/2″D | $386 | |
| esl3036 | 30″H x 36″W x 28-1/2″D | $407 | |
| esl3042 | 30″H x 42″W x 28-1/2″D | $475 | |
| esl3048 | 30″H x 48″W x 28-1/2″D | $568 | |
| esl3054 | 30″H x 54″W x 28-1/2″D | $760 | |
| esl3060 | 30″H x 60″W x 28-1/2″D | $799 | |
| esl3630 | 36″H x 30″W x 28-1/2″D | $410 | |
| esl3636 | 36″H x 36″W x 28-1/2″D | $477 | |
| esl3642 | 36″H x 42″W x 28-1/2″D | $633 | |
| esl3648 | 36″H x 48″W x 28-1/2″D | $648 | |
| esl3660 | 36″H x 60″W x 28-1/2″D | $990 | |
| esl4236 | 42″H x 36″W x 28-1/2″D | $545 | |
| esl4242 | 42″H x 42″W x 28-1/2″D | $643 | |
| esl4248 | 42″H x 48″W x 28-1/2″D | $787 | |
| esl4260 | 42″H x 60″W x 28-1/2″D | $1087 | |
This item requires a quote request to provide an accurate freight quote
Model
Description
Price
Add To Quote
cesl-01s

4′ BANK
Top 2 Units 24″ H x 24″ W
Bottom Single Unit 30″ H x 48″ W
Note:(Mobile Base Add $219.00)

$1150
cesl-01

6′ BANK / 2 TIER
Top 3 Units 24″ H x 24″ W
Bottom 2 Units 36″ H x 36″ W
Note:(Mobile Base Add $258.00)

$1826
cesl-02

6″ BANK / 3 TIER
Top 4 Units 24″ H x 18″ W
Middle 3 Units 24″ H x 24″ W
Bottom 2 Units 30″ H x 36″ W
Note:(Mobile Base Add $258.00)

$2772