Categories
Animal Intensive Care

The Pro-Care 27 Intensive Care Cage has been proven in years of actual use in veterinary hospitals, emergency clinics, teaching hospitals, research facilities and zoos all over the world. The Pro-Care 27 allows you to not only provide better care to your patients with prescription oxygen and nebulization. The oxygen system safely and accurately delivers pre-heated oxygen to the patient, and a capture door helps insure the gentlest, safest handling for both the patient and handler. Additional features include easy to clean surfaces with radiused corners, lift off doors that lay flat to wash, and measured cups for food, water.
Oxygen Supply-Maximum 50 PSIG with Preheat
Humidity Sensor, Solid-State Digital
Double Wall, Fiberglass Reinforced
Thermostat-Solid State Digital, LED Display
Adjustable from 65°F to 95°F (18°C to 35°C) Radiant Heat
Selectable for Set-Point Temperature or Cage Ambient Temperature
115 VAC 60 Hz Overload Protected
230 VAC Supplied with step down transformer
5.5 cu. ft. interior
Flowmeter: Adjustable from 1.0 to 12.0 LPM
Overall Dimensions: 27.75" W x 28" H x 25" D
Inside Front Dimensions: 20.75" W x 24" H x 22"D
Includes 2 Feeding Cups, Removable Perches, Nebulizer
| | | | | |
| --- | --- | --- | --- | --- |
| 912-011c | Pro-Care 27-230V Celcius | $3891 | Add To Cart | |
| 912-011 | Pro-Care 27-230V | $3975 | Add To Cart | |
| 912-010 | Pro-Care 27-120V | $3852 | Add To Cart | |
Shipping:100 lbs 29x29x46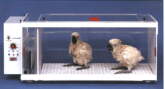 Ideal for birds and other exotics. The temperature is maintained between ambient and 97 Degree F with 3 safety limit systems. Humidity is controlled by adjusting vents and water tray. Large sliding front and top door provides easy access. Durable acrylic housing in hospital white. Solid state heating console with electrostatic filtering system is easily removable to allow total disinfection. Easily adaptable to Nebulizer systems.
| | | | | |
| --- | --- | --- | --- | --- |
| 200e | Large; Inside Dims 23-3/4″ x 17.5″ x 16-3/4″ Digital Display | $1985 | Add To Cart | |
| 100e | Standard; Inside Dims 24″ x 12″ x 12″ Digital display | $1645 | Add To Cart | |
Shipping:100 lbs 29x29x46