Categories
Patient Warming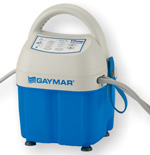 The new Stryker 700 series T/Pump® system replaces the popular model TP650 providing safe and effective warming and cooling therapy with precise temperature control. By circulating water through a leakproof pad, conductive temperature therapy effectively treats a variety of localized conditions including muscle and joint pain, arthritis, and edema. It also helps prevent body heat loss and hypothermia during veterinary surgery and recovery. Surround your patient with continuous warmth by connecting two Mul.T.Pads to one T/Pump®. Gaymar provides adapters for all major brands of heat therapy pumps.
For warming therapy, select from 50°F (10°C), 95°F (35°C), 100°F (38°) or 107°F (42°C) set points
Cooling setting delivers 50°F (10°C) therapy using ice in reservoir
Three-layer safety system with dual temperature sensors, dual microprocessors and a mechanical thermostat to ensure patient safety
Illuminated LED control panel, comfortable handle, built-in hose and cord storage and translucent water reservoir all were designed for ease of use in any facility
Uses tap water (and ice cubes if cooling)
Timed temperature therapy cycles can be set to 20 minutes, 30 minutes or continuous therapy
Optional T/Pump Stand available for convenient placement and ease of transport (comes with storage basket for pads and accessories)
Size: 8"w x 11.5"h x 8"d (20cm x 29cm x 20cm)
Weight: 6.7 lbs. empty (3.0kg)
UL Listed, CSA Approved - One year warranty
| | | | | |
| --- | --- | --- | --- | --- |
| tp-700 | Gaymar Heat Pump | $675 | Add To Cart | |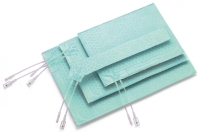 Model
Description
Price
Add To Cart
Add To Quote
tp26e

(18″x26″) Single Use/10 per carton

$248

Add To Cart
tp22g

15″x22″ Re-usable – Green
(Re-usable Pad)

$135

Add To Cart
121218

12″x18″ Heavy Duty Pad -Blue*
(Re-usable Pads)

$48

Add To Cart
122922

22″x30″ Heavy Duty Pad -Blue*
(Re-usable Pads)

$54

Add To Cart
125923

24″x60″ Heavy Duty Pad -Blue*
(Re-usable Pads)

$82

Add To Cart
*Popular
*Heavy duty blue pads feature Push-Button Style connectors. All other pads feature Click-Tite Connectors.
Replacement connectors are available for $22.00/pair
Click Here For Connector Information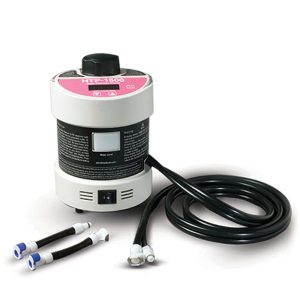 The Adroit Medical HTP-1500 heating pump is a safe and accurate patient warming system that circulates warmed tap water through a pad.Can be safely used as an aid to prevent hypothermia during procedures on small animals.  The digital controller uses proprietary software to manage your prescribed set-point temperature to within one-degree Fahrenheit (1.0°F)!* Three temperature safety limits guard against the possibility of overheating and the Hi Limit Switches can be tested without taking the unit apart. *Pads sold separately. Includes hose adapters for use with Stryker/Gaymar and CSZ Pads. *Pads sold separately
Uses tap water
Real-time, easy-to-read display
Biotech friendly
Optional IV Pole Mount available, not included
Made in the USA
| | | | | | |
| --- | --- | --- | --- | --- | --- |
| htp-1500 | ADROIT THERMAL RECIRCULATING HEAT PUMP 120V | $499 | Free | Add To Cart | |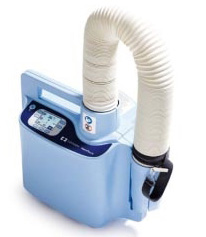 Currently Unavailable The WarmTouch™ convective air warming system gives you a convenient, cost-effective way to maintain normothermia in your patients, which minimizes post-surgical complications and improves recovery time. WarmTouch™ blankets (sold seperately) are flexible to use for most procedures. Made of a soft but strong quilted material, they offer durability, even airflow and comfort.
Easy to use: New intuitive LCD screen and menu function provide all information at a glance
Easy to control: 5 different settings, including ambient and boost, for more flexibility and precision
Easy to handle: The low weight makes it easy to transport and attach to a cart, bed rail or an IV pole
Easy to service: The onscreen filter expiration warning makes it easy to maintain and service
Maximum Contact Temperature 44.1C(111.4F)
Six versatile latex free blanket styles meet a wide range of needs without cluttering your inventory.
Model
Description
Price
Add To Cart
Add To Quote
5600a

Warmtouch 6000 Unit

$2410

Add To Cart
5022900

Mobile Cart For Warmtouch 6000

$295

Add To Cart
5030870

Warmtouch CareDrape Warming Blankets:
Upper Body w/Head Drape (24″W x 72″L) 12/box

$192

Add To Cart
5030880

Warmtouch CareDrape Warming Blankets:
Lower Body Blanket (34″W x 52″L) 12/box

$172

Add To Cart
5030850

Warmtouch CareDrape Warming Blankets:
Pediatric Blanket (22″W x 35″L) 12/box

$172

Add To Cart
5030810

Warmtouch CareDrape Warming Blankets:
Full-Body Blanket (33″W x 74″L) 25/box

$300

Add To Cart
5030840

Warmtouch CareDrape Warming Blankets:
Pediatric Blanket (27″W x 49″L) 12/box

$172

Add To Cart