Categories
GROOMING TUBS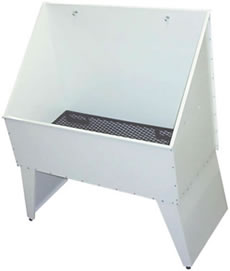 The Edemco F650 and F655 pet tubs, are specifically designed for pet bathing. Features include same side drain & hot/cold water ports for either left or right hand installation; backsplash with restraints; a PVC coated rack; and removable legs so the tub can fit inside a cabinet area. Specifications without Legs: 37-1/2" High Back Splash; 24" Front to Back; 48" Wide; 16" Deep Specifications with Legs: Overall Height 57½" (20" Legs)
3" PVC coated Floor Grill included 23 1/2"x37x3".
Electrostatically coated 20 gauge galvanized steel
Sturdy base with floor levelers
Standard color: White
Custom Colors: Gray, Dot Yellow, Dot Green, Green, Dot Blue, Dot Brown, Silver Vein, Black Vein , Copper Vein, Gold Vein and Red Hammer (Upcharge)
This item requires a quote request to provide an accurate freight quote
| | | | |
| --- | --- | --- | --- |
| f650 | Pet Tub with Rack | $650 | |
| f465 | Optional Pet Steps | $230 | |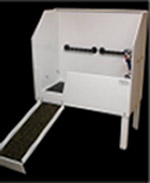 A Breakthrough in Dog Tub Design and Construction!
Constructed of durable, high-density polyethylene that is a full 1/2" thick for excellent impact and dent resistance.
Will not, rust, corrode, or tarnish. Stain and odor resistant.
Excellent resistance to most chemicals, including chlorine bleach, ammonia, alcohol, and most acids.
Molecular makeup of material makes surfaces even easier to rinse off and keep clean than stainless steel.
Resists scum/bacteria buildup, as practically nothing sticks well to it. Even permanent marker, paint, glues, construction adhesives, caulking, and silicone come off after drying for 24 hours!
All joints are fully welded and watertight, so no caulking is used. Joints are as strong as the material itself.
Sturdy legs with adjustable, non-skid levelers.
Double-drain pipe and faucet holes on choice of left or right side
Standard size 48"Lx24" W
One-year warranty to be free of defects in materials and workmanship.
This item requires a quote request to provide an accurate freight quote
| | | | |
| --- | --- | --- | --- |
| p48 | Poly Tub | $1489 | |
| prd48 | Poly Tub w/ ramp & door | $1990 | |
*Accessory Package $390.00
*Accessory package includes Deluxe aluminum sprayer; vacuum breaker; sprayer holder; installation kit; 2 stainless drains w/ strainers & double drain pipe.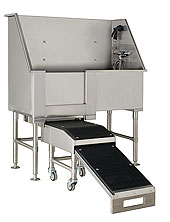 This premium stainless steel walk-in pet bath is fabricated of 16 gauge type 304 stainless steel and can accommodate breeds up to 300 lbs. Features include: all-welded seams, a convenient roll-out ramp, removable entry door, 24" deep tub, four backsplash wall eye hooks for securing animals, and sprayer hook. Limited lifetime warranty. (Specify plumbing side when ordering)
This item requires a quote request to provide an accurate freight quote
| | | | |
| --- | --- | --- | --- |
| aq48k | Tub w/ Swivel Ramp 48″L X 24″W X 57″H | $2830 | |
| aq58k | Tub w/ Swivel Ramp 58″L X 24″W X 57″H | $2970 | |
| 810 | Stainless bottle rack w/ four 32oz bottles | $99 | |
| hr10 | Stainless Booster rack 24″x21″x10'H | $395 | |
| hr2-48 | Bath rack for 48″L tub / 2″H | $510 | |
| hr2-58 | Bath rack for 58″L tub / 2″H | $610 | |
Installation Specifications pdf
This item is shipped direct from the manufacturer. Please allow 6 weeks for delivery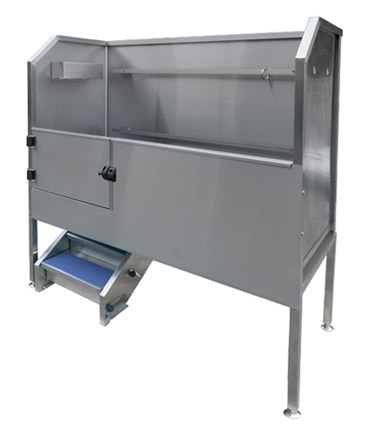 Slide in/slide out steps allow large breeds to easily enter tub without lifting. Large cam lock door keeps door secure during bathing. Three comfort level platform positions allow bathing of all size pets without bending. Other features include sliding restraint system, PVC coated platform/ floor rack, hair trap drain insert, and 16 Gauge stainless construction with three sided backsplash. Overall Dimensions: 60"H x 55 1/4"W x 24"D.   Weight: 302lbs.
This item requires a quote request to provide an accurate freight quote
Model
Description
Price
Add To Quote
904-0702-30

Step-up Tub-right side steps
/left side drain

$2990
904-0702-31

Step-up Tub-left side steps
/right side drain

$2990
804-0011-17

Aluminum sprayer w/ coiled hose

$393
This item is shipped direct from the manufacturer. Please allow 6 weeks for delivery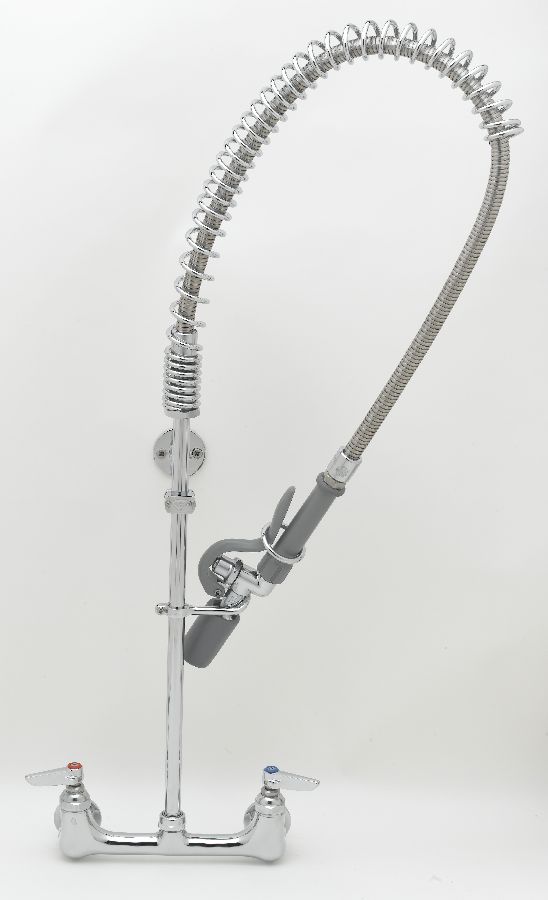 B-0107-C low flow spray valve (1.24 gpm)
8" (203mm) center wall mounted faucet (002832-40) with "pop and lock" riser installation feature
B-0109-01 6" (152mm) wall bracket
35-1/2" (902mm) high
15" (381mm) overhang
1/2" NPT female eccentric flanged inlets (00AA)
18" (457mm) riser (000369-40)
B-0044-H flexible stainless steel hose
EPAct 2005 CompliantNote: Installation Kit - B-0230-K (1 required)
This item requires a quote request to provide an accurate freight quote
| | | | |
| --- | --- | --- | --- |
| b-0133-c | Standard | $496.42 | |
| b-0133-cr-c | With ceramic cartridges | $496.42 | |
*Call for availability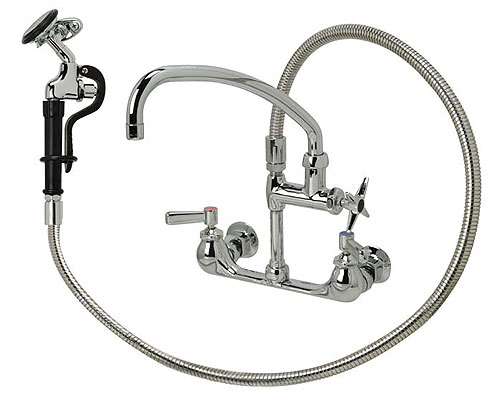 Deluxe-Wall mount faucet with swing nozzle, anti spray unit. 8'' center Solid brass chrome plated body nozzle and sprayer. 60'' stainless steel hose with Hose hanger
This item requires a quote request to provide an accurate freight quote
| | | |
| --- | --- | --- |
| plb-0175 | $519 | |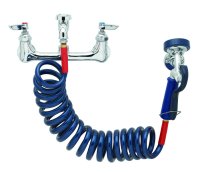 Lightweight for easy, all-day use.
Coiled polyurethane hose which stretches up to 9'.
Choose deck or wall-mounted mixing faucet.
Automatic shut-off valve.
Hook which holds sprayer when not in use.
1/2" NPT female inlets with 8" centers.
Built-in spring checks prevent cross flow of water.
Built-in vacuum breaker (generally required by code
This item requires a quote request to provide an accurate freight quote
| | | | |
| --- | --- | --- | --- |
| px100 | Aluminum Sprayer Faucet | $390 | |
* Included with Poly Tub accessory Kit